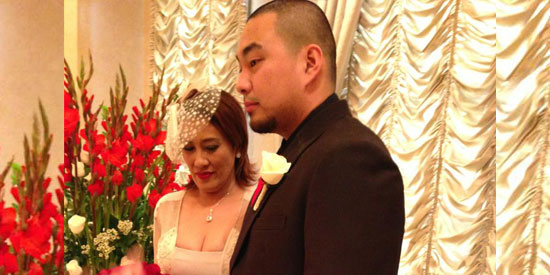 photo credit: Instagram and Pep.ph
Sunday shows are always showbiz talkshows here in the Philippines. Yesterday, I slept the whole afternoon because the night before I was re-formatting my 2 PCs so I lacked sleep. Overhearing this confession yesterday, I thought it was another Barretto-kin confrontation on national tv since these names were very much hot issue especially that it escalated to posting of explicit pictures of Marjorie over the internet. When I woke up, I saw that it was Ai-ai de Alas and it was a terrible shock: the marriage is broken up in one month.
I thought to myself, "Yeah, yeah..another showbiz marriage broken up..(what else is new?)" But before I got up, as I was half-sleeping, I overheard her say "...fairytales..." After so many years in the industry you have a comedian giving us laughs in her movies and sitcoms but devoid of happy ending in marriage. As far as I can remember she had broken relationships before this one but this one is a startling revelation. After being married barely a month, they broke up citing physical attacks and third party. I am not laughing for this lady since she needs our sympathy with this happening in her personal life. And, yes, it is very understandable that a showbiz personally would normally run for the spotlight to open her grief and sorrow--- a release that we normally do when we have problems of our own.
Fairytales, happy endings, are of course, normal children's bedtime story we heard over and over again. Movies are even created for children to make them realize that their dreams and wishes do come true. I won't say Ai-ai doesn't have the right to claim this ending phrase of a bedtime story because it also does give us a moral lesson from those bedtime stories--that once you remain dreaming, down to earth, pursuing under pressure; you will reap a happy ever after ending in life--and Ai-ai herself had a very successful life, career and children. She had her own happy endings through her life in different chapters. We've had so much readings of happy endings in fairy tale stories in our childhood and never ending happiness in our adolescent to adult years in novel and movies. But, sometimes we ought to live life realistically and consider that sometimes, bedtime stories is not part of life. Bedtimes stories create an imagination in a child's mind, to continue to wish and be good, as this is what fairy tale stories tell us. In the adult world, this is not the case. There are realizations that we need to consider. And these realizations hurt. Sometimes before we realize, the agony and pain have already restrained us from realizing those dreams.
Relationships do work, but sometimes they don't. But that doesn't mean life ends in a single setting. Like movies, we have to start accepting the oddities of life and re-enter a chapter of understanding and realization. A new sequel starts and there is another twist in a bad ending story. For Ai-ai, she has a wonderful life, has children, and her career is blooming. It doesn't end in a man's shadow. To have endured so much about men and be victim of love and promises, this is supposed to be where she is control already: enduring relationships, be hurt and start over again with another promise from yet another man. But just like the saying, she is only human to err and a woman who gets swept away from promises. One thing I can console to Miss Ai-ai, your life is complete. You have the money, fame, and family to live on. And oh!, by the way, Vegas marriages are not part of fairy tale stories.